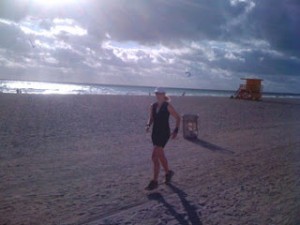 Miami Beach, Florida, USA, January 1, 2011
We spent New Years in Miami Beach before joining our friends on a Caribbean cruise. The weather was cool and overcast but it was still fun on the strip on New Year's eve celebrating at a salsa club. The next morning I managed to put in a few miles on the beach before we headed off to board the ship. There weren't many people up that early after the evening's festivities.
---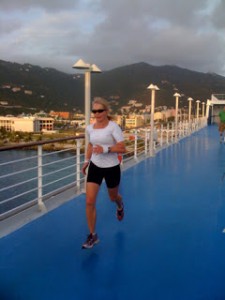 Gustavia, St. Barts January 2011
This was the same boat, The Regatta, of the Oceana line so I knew I'd get to run on the track even though we were tethered into most of the islands. By the time we got ashore it was usually too hot into the day to do any serious running so I took full advantage of the onboard track to pound out a few miles each morning.
St. Barts was stunning. We found a very expensive beach resort where the young and beautiful partied. It was fun drinking wine and having a good meal with our friends. The waitress brought us complimentary drinks called "Sex on the Beach" and that definitely helped us get into the spirit of St. Barts.
The cruise was lots of fun. My sister-in-law, her husband and their friends were also onboard. Since we live in Toronto and they live in Texas this was a great opportunity to visit with each other. The weather was great and the beaches spectacular.
---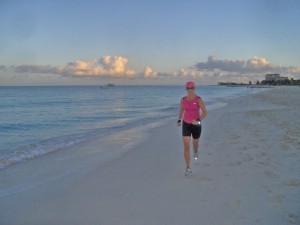 Provinciales, Turks & Caicos February 5, 2011
My 60th birthday was spent in Turks this year. This is the start of a new decade of my life and I am embracing everything that lays in front of me over the next part of my life. I'm lucky to be able to run. I always say "I run because I can". Running is a gift everyday I appreciate and wonder at the joy and sense of freedom it brings to me.
---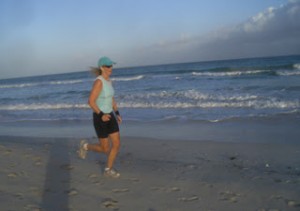 Veradero, Cuba, March 2011
A long cold winter in Toronto with no signs of letting up prompted us to take an extra week away to Cuba in March. This time we visited Havana and enjoyed the historic old town. Unfortunately we returned to a still bad winter until it edged into a rainy spring. We've been promised a warm hot summer and I'm counting on it!
In Cuba I managed to jam my foot walking barefoot on the beach one day. I didn't think too much of it but on my return we went back to our weekly ballroom dance lessons. I found myself using biofreeze so that I could dance in heels. After a bit my sore foot started interfering with my running so I rested and iced it for a week. When I went to the doctor he sent me for a bone scan which revealed a stress fracture. Off running for six weeks (sigh). Once again I'm deep water running and getting pretty frustrated.
---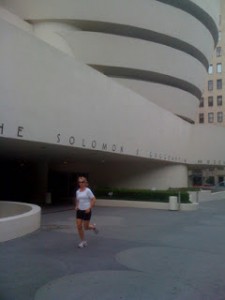 New York City, USA, May 2011
My daughter and I flew to NYC for a business conference and then my husband joined us for a few days over the weekend. We saw the broadway hit, Book of Mormon, and a comedy show. The weather was 30+ and sunny every day so we managed to escape a week of Toronto rain. We ate at outside patios pretty much every day for lunch and dinner, saw the sites and I even managed to do some walking on my slowly healing foot. Just five weeks post stress fracture I can't push it very much and need to ice every evening. One morning we took a taxi to Central Park so I could get my World Running Tour photo in. I ran about 100 meters for the shot and that was the extent of my running this spring so far.
---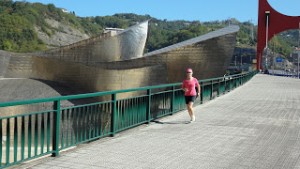 Bilbao, Spain, September 2011
Running by the beautiful Guggenheim Museum in Bilbao designed by Canadian-American architect Frank Gehry.
---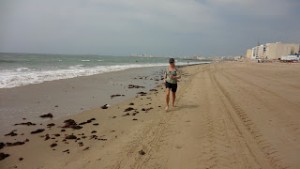 Lisb0n, Portugal, September 2011
Running on a deserted beach in Lisban Portugal. I don't usually run barefoot but it just was a spur of the moment decision.
Portugal is a beautiful country and we hope to go back someday and spend more time traveling around the country.
---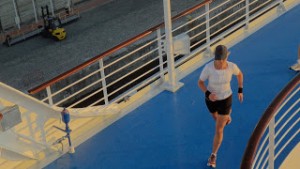 We were on a cruise through Spain and Portugal. I love the small track on these Oceania cruise ships. There's just enough space to get a bit of air as you round the corners and short straights for bursts of speed. Sweet.