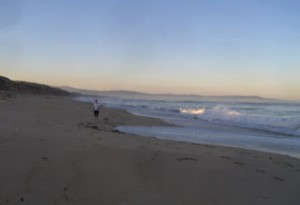 Pismo Beach, California, October 2010
I decided to attend a conference for my new business. We headed off to spend a few days in San Francisco and then drive the scenic route down the coastal roads to Pismo Beach. The views were spectacular. We rented a Mustang convertible and played Beach Boys the entire trip. While I spent three days at the conference my husband visited local vineyards and golf courses. On our way home we stopped in Carmel by the Sea, the town where Clint Eastwood had been mayor. We visited Alcatraz in San Francisco and my husband insisted on a cameo shot of me running from the prison to the water!
---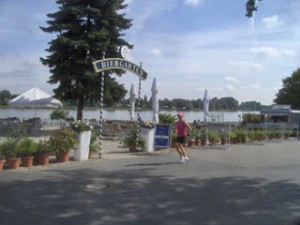 Wurzburg, Germany, September 2010
This was a different river cruise line than the one in 2007 and we were disappointed with the slowness of the boat. Apparently the rivers in Europe were particularly high this season after a rainy spring and summer. The rivers were really congested because many of the boats were riding too high to get under the bridges so we spent a lot of time cruising at an incredibly slow speed.
The last river cruise we had docked early and I had jumped off to do my run. This time I paced the boat in the early morning. The cruise director promised every stop that there would be time but it only happened a few times. Since the idea of a fitness room on the boat was a closet sized space with one broken treadmill and a bike there wasn't any other option for burning off energy. I didn't realize just how rare it is for a tourist to go for a run onshore every morning until one day when one of the Eastern European sailors on board stopped me. "Uniworld?", he asked. I said, "Yes", and he replied "You run". He must have previously worked with Uniworld Cruiselines, the company we used for our cruise along the Danube three years earlier.
On the cruise we seemed to be following a beer festival along the small towns. In Wurzburg I was thrilled to get off the boat and run in the morning. Along the way there were signs of lots of partying the night before.
---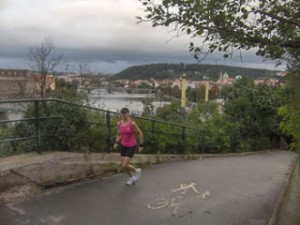 Prague, Czech Republic, August 2010
We started out on another river cruise by spending three days in Prague. Having been there in 1976 we knew that it was beautiful city often described along with Budapest as one of the architectural gems of Europe. We had visited Russia the previous year and seen the grim changes from their communist days when we had been part of an engineering group tour of the then Soviet Union. We were expecting to see Prague in a similar state of change, still somber and poor. We were amazed to see the modern new city that had embraced tourism while maintaining its historic integrity.
Our modern hotel was close to a large city park so I headed out there first thing each morning. My husband played photographic biographer the first morning. He was a little jet lagged and non too pleased to have to get up so early but gamely came along, even donning his runners and gear to jog along beside me. As we climbed a large set of stairs to reach the top promenade section we turned a corner and ran right into a sunrise nude photoshoot. I just kept running along but he managed to slow down enough to enjoy the view!
---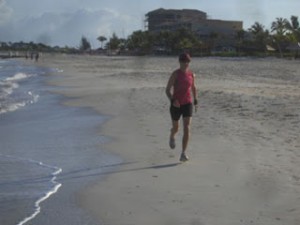 Providenciales,Turks & Caicos Mar 2010
We hadn't been to a Club Med resort since our kids were young and we went several years to their club in Eleuthra. Our travel agent told us that they had become more upscale so we decided to give them a try again.
Turquois, the name of the resort in Turks & Caicos, is on a gorgeous stretch of beach on Grace Bay with the most vibrant turquoise water imaginable. The beach is probably the best beach I have ever run on because you never run out of flat sand and the surf is rarely rough.
We had originally chosen to go to Turks because my husband has become an avid scuba diver and had heard that the diving was particularly good in this area. They don't allow speed boats or recreational vehicles along this stretch of the beach and it is so blissfully quiet. I did go snorkling a couple of times. I'm not much of a swimmer but I try to do things my husband enjoys since he is such a good sport about the early morning running photos. Plus he gaveme pink fins to encourage me. The first day our snorkling we saw two sharks. If you could scream underwater I was doing it. Meanwhile he grabbed my hand and tried to get me to swim closer to get a better view. Afterwards he told me I was lucky. He hadn't seen a shark until he'd been snorkling for many years. Personally I'd prefer to see fish smaller than myself.
---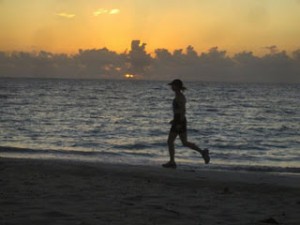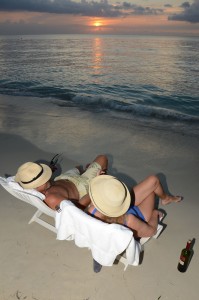 Negril, Jamaica, February 2010
Back to Negril for another birthday, the last one of this decade of my life! We had a fabulous two weeks and of course I ran my favourite beach every morning. On my birthday I ran twice, once at dawn and the second time at sunset when this picture was taken. The sunsets in Negril are spectacular as the red fire ball sun disappears behind the horizon. We have a special room we like to reserve that has a corner balcony overlooking the beach. Lots of evenings we sit there and enjoy the special Jamaican sunset. Sometimes we take our wine and head down to the beach to enjoy a view from deck chairs pulled right up to the shoreline so that our toes are resting in the surf.
One of the things about Negril is that each resort has guards at the start and end of their designated beach section. After a day or two they get to know me and don't expect me to run over and check in and out which is always such a bother. One of the guards was always listening to an ipod so we would compare notes on who we were listening to each morning. Mostly in Jamaica I listen to Bob Marley. It's not the fastest running music by a long shot but it has a beat that just makes me happy. I love it that Bob Marley's birthday is the day after mine and everyone in Negril celebrates that whole week. It feels like my birthday is part of something bigger and I like that.
---