---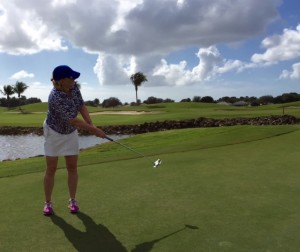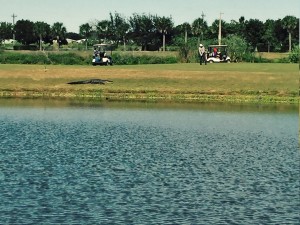 Naples Florida, December 2016 – January 2016
My dream was to golf a lot this past winter. We went to Florida for two weeks over Christmas and New Year's and golfed almost every day. For me the best way to learn is to practice a lot and I certainly did that. The worst was New Year's Day when we had partied hard to bring in 2016. The next morning it was so hard to even tee up the ball I promised myself I'd never do that again. LOL. At my age you'd think I'd know better but I guess I still have that lesson to learn again.
The thing about Florida is that sometimes there's an alligator on the course. This guy didn't let it deter him from his shot. Notice the golf ball about three feet in front of the gator. I don't think anybody claimed that ball. I was safely on the other side of the water when taking the pic.
---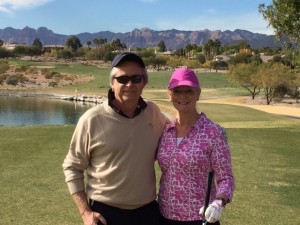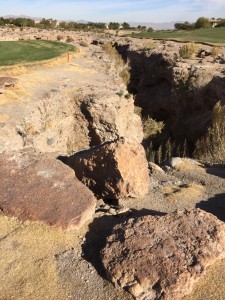 Las Vegas, Nevada, December 2016
My husband and I like to celebrate the anniversary of our first date which was December 1, 1967. I was 16 and he was 17. We went to a dance at our high school and then out to the local A&W for root beer and fries. Back then the A&W was a drive-in and the wait staff roller skated over to deliver your food on a try that attached to your car door.
Anyway fast forward to 2015, forty-eight years later and we're in Las Vegas on a four day golf holiday. We stayed at the Aria Hotel, golfed everyday and played black jack along the strip in the evening. One night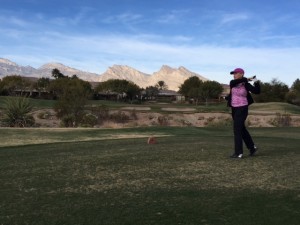 we won enough to pay for the entire trip!
Golfers in Vegas are pretty keen and expect to play a round in less than four hours. For a new golfer this is pretty intimidating. I started not taking any practice swings and often jogging between shots. It was fun but intense.
The other thing is that being in the desert there aren't really any water traps but the bunkers can be huge craters. It's a beautiful landscape in which to enjoy a game of golf.
---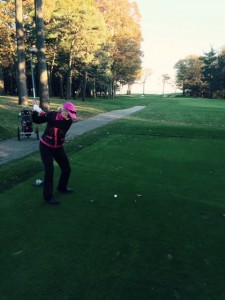 Toronto Hunt, Canada, October 2015
On a beautiful fall day in October we went to the Toronto Hunt club for an end of season game. The grass was lovely and green and trees showing their colour. I like golfing in the fall but need to replace my usual pink ball with a white one so that I can find it in the leaves. Of course I could always just hit down the middle of the fairway and problem solved.
---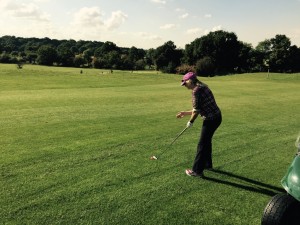 London, England, October 2015
We took the tube from Mayfair to a local city course just outside of London. The tube ride was an adventure. My husband insists that he told me it was our stop and he got off the train. Unfortunately I didn't hear him but looked around before the doors closed as the car emptied and couldn't see him. Trying to decide to get out or stay on I opted to stay on and asked if anyone had seen him get off. A few kind people shook their heads but pointed out that if I got off at the next stop I could catch the next train going back the one stop. Well I had no id, no money, no cell phone so I merrily got off the train, stopped to pet a little dog and ask it's owner for directions to the opposite platform and went back. As I got off the train I saw my husband walking in the opposite direction not even checking for me getting off the train. We reunited and made it to the golf course together and laughing over the misstep. After 44 years of traveling together this is the first time we've been separated. I'm amazed that I didn't panic but did have a backup plan to go to the booth and ask to use a phone to call him. I now make sure that I have some money tucked in a pocket and always carry my phone.
The golf course was pretty flat and straightforward as one would expect of a course close to the city. In my photo I'm not sure what I was doing with my right hand but I think I was telling the ball to pay attention.
---
Tuscany, Italy, September 2015
We went to Tuscany in September for our 43rd anniversary. We started out for a week at cooking school at Casa Gregorio. It was so much fun – new friends, Italian food, wine and lots of laughter. Then we drove to Tuscany and tried golfing in the Tuscan hills. After all the pasta I felt like the bronze statue but really enjoyed the vistas. The golf course was tough and we had to walk it but it was so rewarding to see the spectacular views.