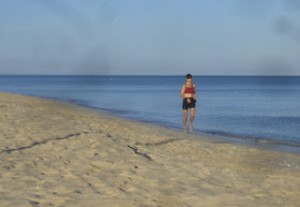 Veradero, Cuba, September 2009
My husband surprised me with a last minute trip to Cuba for our 37th anniversary in September. We'd been to Veradero at Christmas1979 with our son who was just nine months old. The beach is just as lovely but a lot busier than thirty years earlier. We got great weather and I thoroughly enjoyed my early morning runs along that deep soft sand.
---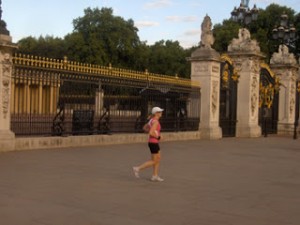 London, England, September 2009
We've been to London many times over the years but spending a few days after the cruise was a nice way to end our holiday. We stayed at our favourite little boutique hotel, The Chesterfield, in Mayfair. It's really close to Buckingham Palace so I was able to take a little run by in the early part of the day. Later this area is so packed with tourists that it's impossible to get near the gates.
We have been to many of the sites of London over the years and really enjoy the shows in London. This time we got tickets for the newest hit, Billy Elliot. We also spent a fascinating afternoon in the Churchill War Rooms where his wartime command is documented in reconstructed rooms where the Prime Minister lived and worked during that historic period.
---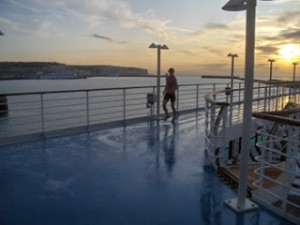 Dover, England, September 2009
Nearing the end of the cruise coming into England I had the thrill of an early morning run by the White Cliffs of Dover. We had visited this area right after the Chernobyl Nuclear Disaster in 1986 and are saddened to learn the nearly 400 farmers in the Dover area still restricted in the way they use land and rear sheep because of radioactive fallout from the power station accident.
---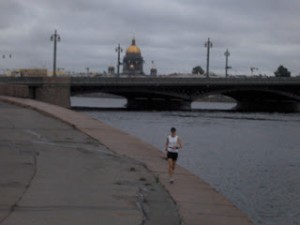 St. Petersburg, Russia, August 2009
On our Baltic cruise our boat was docked three days in St. Petersburg. We had set up visas at home so that we could disembark whenever we wanted to rather than wait for the tour group. Every morning we had to clear Russian customs as soon as we got off the boat. I was a bit nervous about running on my own in Russia so my husband kindly accompanied me every morning rather than just once for the usual photo shoot. By the second day the Russian inspectors just smiled at us and waived us through. It seems that Russians, at least in St. Petersburg, don't run anywhere. We never saw another person out running during our stay. One morning I was running ahead while my husband sauntered along and a fellow who looked like a drunken sailor came up to him and asked if he was my bodyguard? They walked along and chatted for quite a while and it turned out the guy had worked on the boats in the Great Lakes at one point and just wanted to practice his English. It felt amazing to run in such an exotic and historical setting with elaborate bridges, golden domed architecture and stark streets.
---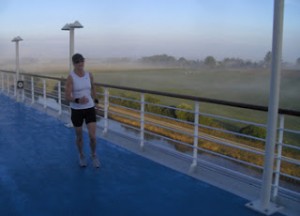 Copenhagen, Denmark, August 2009
Sometimes there wasn't time to get off the boat in the early morning to run and still have time to site see with our friends so I did my running on the track onboard. One of the reasons I like this cruiseline, Oceania, is that they have a mid size boat which holds about 650 people so that not a lot of people are trying to get onshore when you dock. The other reason is that it has a track up top. It is a relatively tight track and people tend to use it for a walking place but early in the morning it's usually the committed runners who speed around it. It does the trick and it is really pretty seeing the ports as the boat comes in.
---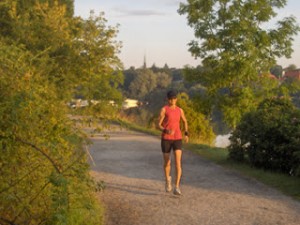 Stockholm, Sweden, August 20009
In late summer 2009 we went on a Baltic cruise. Before we got on the boat we spent a few days in lovely Stockholm. The first morning I woke up around 4:30 am and thought that there must be a movie shoot with bright lights shining right outside our hotel window. Imagine my surprise when I realized that the sun was already up! I immediately fell in love with early morning summer Stockholm. I don't think I'd have been so thrilled in the darkness of December! As an early riser who loves to run at the crack of dawn I'm often up and waiting for it to be bright enough to hit the streets. At home in Toronto I don't worry so much because I know the route, it's well lit with lots of cars, taxis, buses, etc., along Queen St. E. When I travel though I'm a bit more hesitant to venture out in the darkness of early morning. Stockholm's early morning light was just what I needed. One morning I went for an hour and a half run in the large city park, Djurgården, while my husband rode along on a rented bike. There were cows, horses, ducks in early morning scenic setting.
---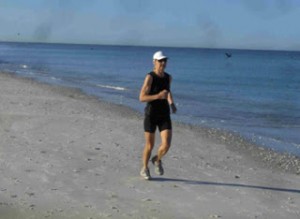 Naples, Florida, March 2009
What a great week we had with friends in Naples. It was a beautiful condo on the beach, we had picnics and music and wine. I ran in the mornings. One morning I was all by myself at sunrise and I noticed two dolphins swimming along with me about 20 yards or so from the shore. Amazing! They were gorgeous animals, big and sleek grey, so elegant. We went along together, me on the shore, them in the water for what seemed like ages, keeping pace with one another. When I got back to the condo the others were up and politely asked me how my run was. I was jumping up and down with excitement. After that my husband gave me my special name, Runs with Dolphins! When we got home he presented me with a little silver dolphin necklace to remind me of that magical moment.
---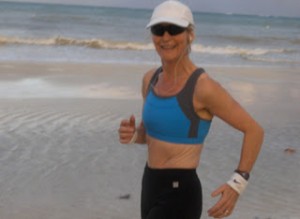 Negril, Jamaica, February 2009
If it's February it must be Jamaica! My 58th birthday started out with me running on the beach in Negril. Two beautiful relaxing weeks on the beach, running, reading, drinking Pinot Grigio. Sweet!