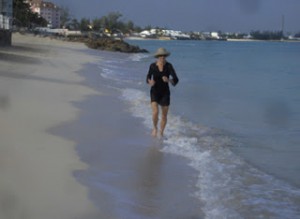 Nassau, Bahamas December 2007
December 1st is the anniversary of our first date so my husband and I try to do something special. In December 2007 we spent a long weekend in Nassau. The weather was great, it's only a short flight from Toronto and at sunset by the pool there was a saxophone player who played a festive selection of soulful Christmas carols. It was a magical weekend and I managed to run a bit barefoot on the beach. Joy!
---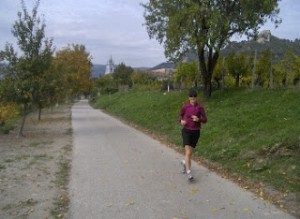 Passau, Germany, September 2007
This is the first of my documented World Running Tour album. In 2007 my husband and I were on a river cruise along the Danube that started in Passau and ended in Budapest for our 35th wedding anniversary trip.
A river cruise is the ideal trip for runners because the boat docks right alongside the river (no tendering like on the big cruise lines) and you can hop off and run along the shore. This is great for those of us who are directionally challenged. Run with the river on one side out and then turn around and run with the river on the other side back until you run into your boat. Simple. The only time I literally ran into trouble was in France when I ran with the river on one side and a beautiful vineyard on the other. I decided to run up and take a look at the vineyard. Big mistake. It was like a maze and I wandered around it for quite some time before I found my way out. Lesson learned. The river was always in site after that.
Usually the river boats cruise to their next stop during the evening and dock early in the morning. I would get off as soon as we docked and do my run and be back in plenty of time for breakfast and the morning tour. The beauty of the countryside first thing in the morning is so amazing I felt sorry for my fellow travellers who never saw that side of Europe.
This was a memorable trip which actually started for us with three days in Munich at Octoberfest. No one has a party like the Germans – lots of beer, schnitzel and ompapa. After Munich I need to run. A lot! If there's anything I like as much as running it's schnitzel with sauerkraut. Actually this is how the whole World Running Tour concept started as my husband kept calling this trip my World Running and Schnitzel Tour. Since alas there are very few places in the world where they make great schnitzel I decided to focus on the running part of the tour. So the journey begins… Next stop Bahamas.